ACCTRON 3000
ACCTRON 3000 is an integrated, easy to use software that gives you the accurate database in your business that bring accounting management, order management, inventory management, purchasing and service management into one financial management system.
Some Packages That We Offer To Our Clients
Flexible Mix and Match the Packages are Available
ACCTRON 3000 Financial Package is a versatile business solution that incorporates sophisticated capabilities you need to streamline and simplify data entry and increase your organisation's efficiency and productivity.
From cash collections and cash payments to expense analyses, budgeting and forecast, ACCTRON 3000 Financial Package allows you to access critical General Ledger, Accounts Payable and Accounts Receivable information that you need when you need it.
It has a powerful financial report writer with the ability to customise your financial reports to exact operational requirements. With flexible chart of accounts capability that allows you to generate a wide variety of analytical reports to suit any business environment.
ACCTRON 3000 Order Management Package allows powerful, multi-function and fully-integrated solutions that begin from sales enquiry and order processing to delivery, invoicing and inventory control in order to manage your business even better.
You can generate sales forecasts quickly and accurately. Formulate effective strategies through versatile sales analyses. Monitor pricing to individual customers and respond quickly to inquiries. Consolidate your billings to "one location" for added convenience. Improve warehouse productivity and inventory investments and optimise cash flow without compromising on customer service and satisfaction.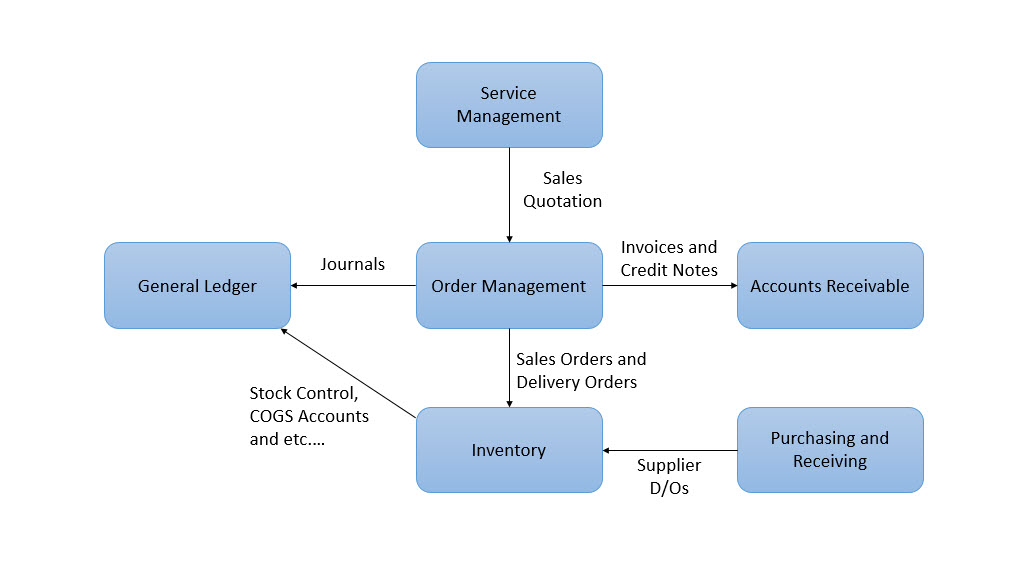 ACCTRON 3000 Service and Project Packages incorporate three distinct modules to help you maintain the competitve edge in new projects and customer service.
The Service Management Package allows you to plan and track the maintenance of your customers' equipment whilst generating useful maintenance revenue updates. It allows immediate validation of service contracts and lets you respond to customers' call quickly and efficiently.
The Project Accounting Package tracks a tender at bidding stage right up to the award and final completion. Cost s and budget are kept up to date for comparison and cost analyses allows you to keep costs under control and increase project profitability.
The Purchasing Package which is interlinked and updated simultaneously with the Inventory and Project Accounting Packages let you track and control the purchase and receipt of goods for better operational efficiency.