NAMIC's fourth and final AM event of the year drew over 300 industrial players over a broad spectrum of disciplines and businesses around the world, and it was the women who stole the thunder from their male counterparts.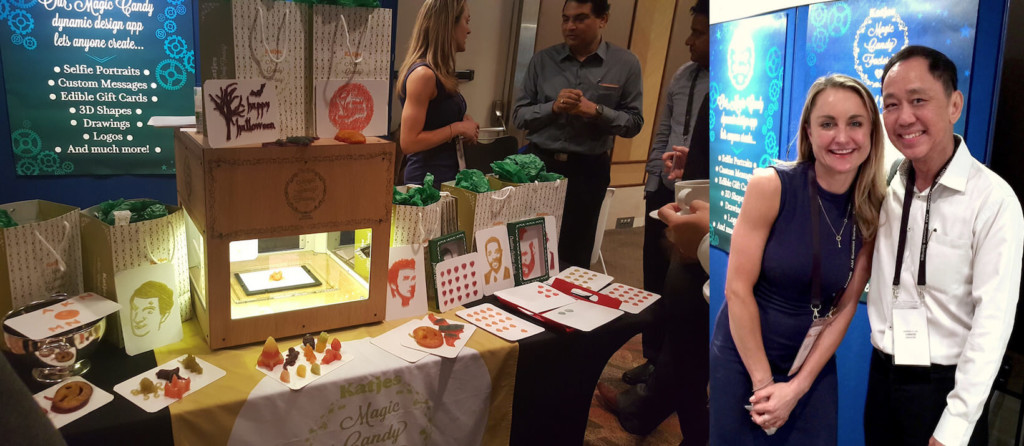 The surprising sleeper hit at the show was Katje's Magic Candy Factory, a small fun business for customers to design and print their own gummy candy that started in Birmingham UK and then spread through the USA and now has outlets in faraway parts of the world, including Berlin and Dubai.
Using FDM technology but marketing it as 'magic', founder Melissa Snover (with Ginkgo3D's Andrew Loh, photo above right) was able to get press coverage in over 40 countries in platforms like BBC, the Daily Mail, NBC, Good Morning America, Chicago Tribune and Fox News through clever marketing.
Part of the magic includes design templates and a new App for on-the-spot design of the candies, the substitution of pectin for gelatin in the formulation, and says Melissa, "never, never, the use of 'syringes' or 'cartridges' for the food inks. We call them 'Gummy Zummies' and 'Magic Dust' ­– that's Marketing 101!". Customers can design and print their own candies in minutes, and get a free video of the event as a bonus.
Ever the 'serial entrepreneur' she describes herself, Melissa is ready to discuss business or franchise opportunities with anyone interested from Singapore or beyond. Contact her at Melissa@lovekatjes.com.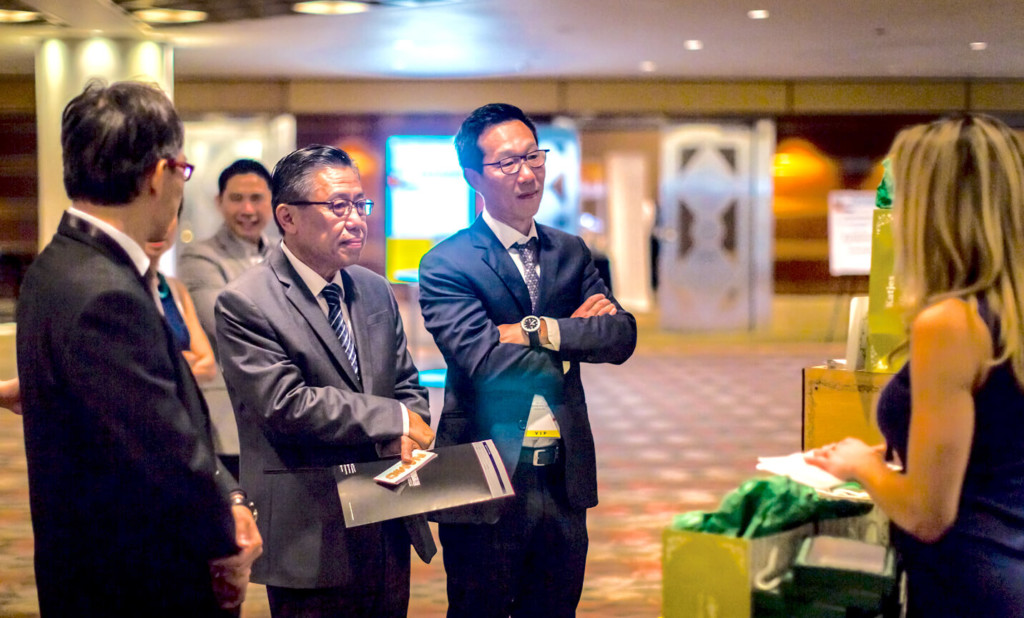 Guest-of-Honour, Ambassador to the Sultanate of Oman Mr Teng Theng Dar talks to entrepreneur Melissa Snover at the event and also extended an invitation from the sultanate to pursue opportunities in AM technologies and businesses in Oman early next year. In his opening speech, Mr Teng had illustrated how disruptive AM could be with an example of how a prosthetic hand could be printed for hundreds of dollars in a few days instead of tens of thousands of dollars in a few weeks.
---
Ting Tang of Elements Lab gave budding jewellery designers a leg up by sharing her experience as a novice to the industry and how she succeeded in building up her jewellery business. Her most important point? "You don't need to do everything yourself," she says. "You can get a good jeweller to do the last part (of casting, printing and post-processing) for you." adding that the makers are making a whole new ecosystem around 3D printing.
---
The one-day intensive exchange covered subjects ranging from automotive customisation, biomedical advances, manufacturing parts replacement and construction to jewellery, food and candy-production.

Early bird Terry Ming of ECS Singapore rushes to prepare for the summit, which attracted participants from around the world. The theme of this summit was "Design for Additive Manufacturing", covering industrial design, construction, consumer lifestyle and food printing.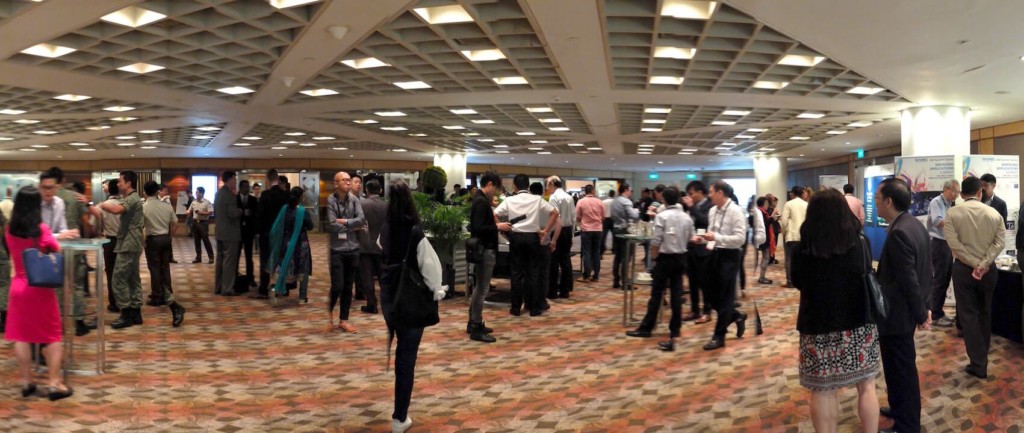 Over the time of about nearly hours, the event moved at a brisk space, engaging AM practitioners, from upstream academics to downstream operators across different industries and businesses. Mind-bending questions like "Can we print humans organs on-the-spot?" or "Can we print organs directly onto a patient's face or body?" raised by Prof Yeong Wai Yee of NTU kept the audience fascinated and engaged. There were also a few hobbyist visitors at the event.
Above left: Industrial designer and keynote speaker, Lionel T Dean reiterated a common lament on why 3D printing is still not used widely in industry – it is still too slow and expensive. Participants also got to marvel at some of his designs that are displayed at MOMA, the Metropolitan Museum of Modern Art; Above right: Vivian Hartmann of Vivaciously posited that you can short-circuit the design path because design thinking allowed you to understand customers' needs while 3DP technologies enable you to iterate the resultant design quickly.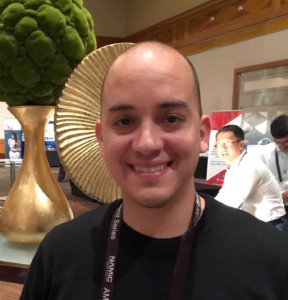 Based in Beijing, Leandro Rolon of DeFacto hit all the right spots by addressing issues such as modular design and production, biodegradable materials and upcycling of used products. This was while he artfully linked architecture, fashion and food with a 3D printing theme, while showing the audience a portfolio of his works that included the largest 3D printed structure in the world, a Guinness world record.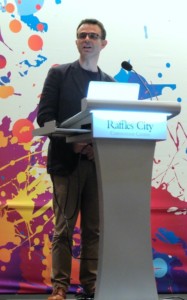 Chris Lefteri of the eponymous design house in Singapore (left) tickled the audience's imagination by asking age-old questions asked by architects: What does a brick want to be and what does plastic want to be? Of course they wanted to be customised products made just for us! He brought the audience into the fascinating world of materials, first underscored by Javier Fernandez of SUTD, that nature is still the first and best designer of materials.
---
The architect and the Professor – both are exploring ways to speed up progress in the architectural profession and construction industry. Dr Jacky Chung's (above, in grey jacket with Kelvin Tam of DP Architects) ironic slide of two construction sites photographed a century apart shows that little has changed in the construction industry, and that this is the industry that will stand to benefit most greatly if all the construction contractors learn and adopt 3D printing in their building methods.
Even interior designers stand to improve their designs with customized furniture and fittings, says Jacky, illustrating this with an example of 3D timber printing with real strands of wood instead of wood powder. Though the challenges of speed, cost and regulations remain, Dr Chung is confident of great strides to be made with C3DP or Construction 3D Printing in the near future.
Pictured below is the panel discussion on 3D printing in the building and construction industries.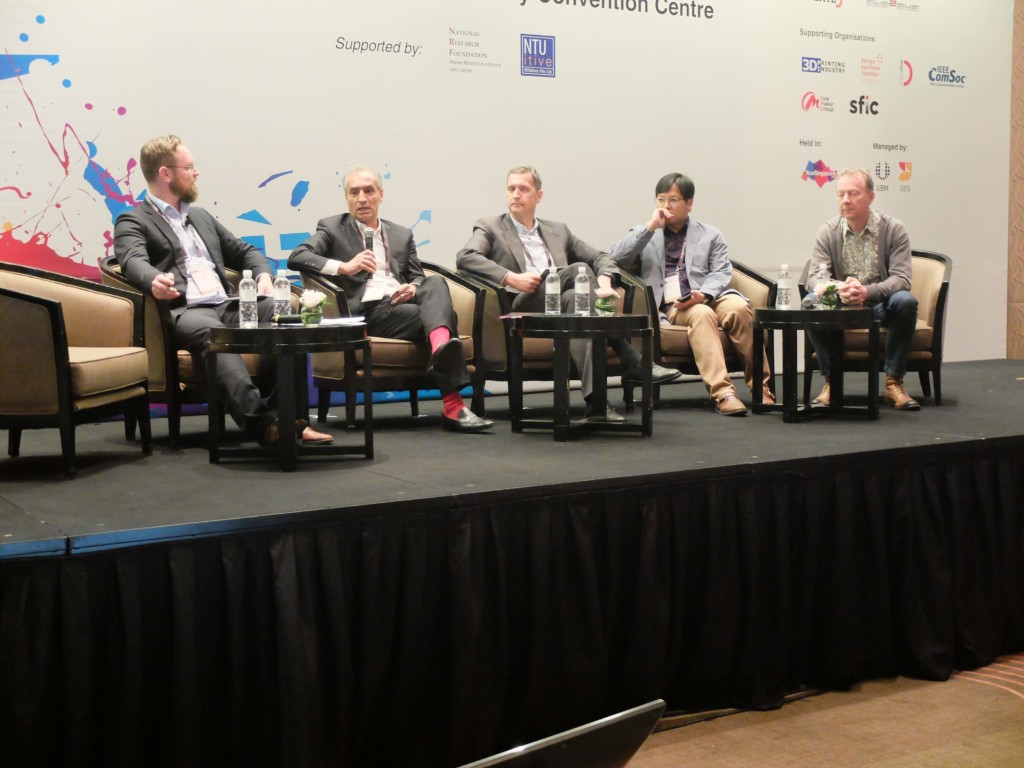 In between official presentations and talks, participants at the event found time to meet new practitioners, catch up and network.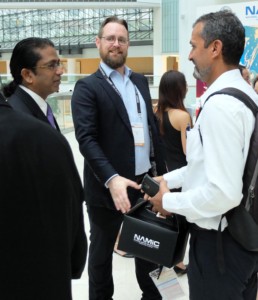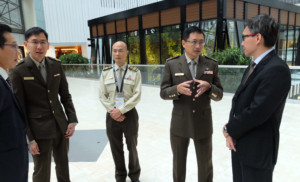 ---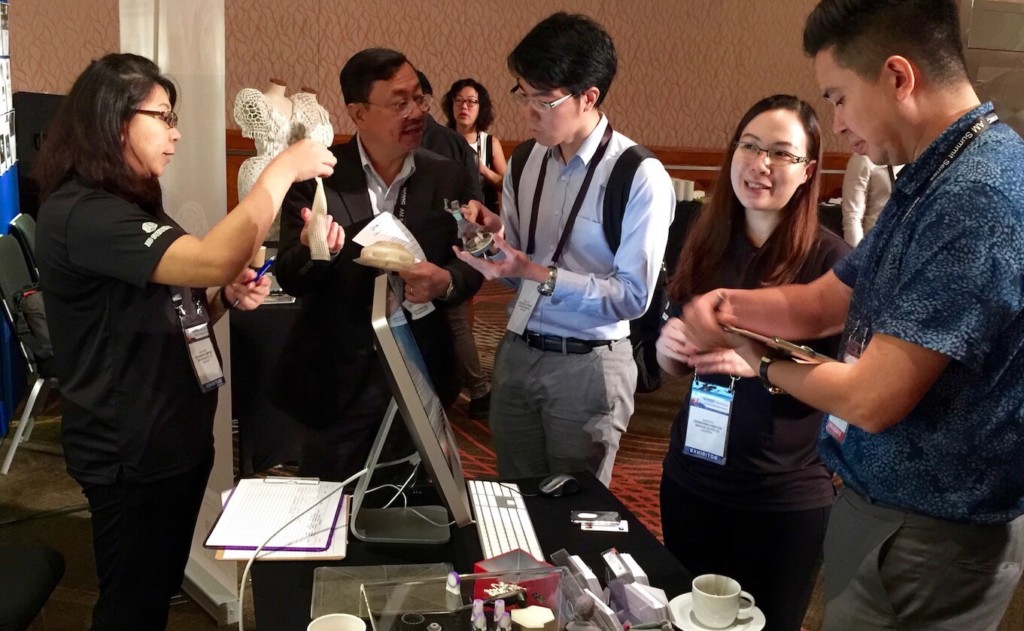 In conjunction with the Summit was a small exhibition of 3D printing technologies. At the 3D Systems-ECS Booth, manufacturers were looking for AM solutions, ranging from 3D printing services, printing materials and machines to training in AM design. A common gripe was that 3D printing services was still too costly and that delivery times were not fast enough.
The 3D Systems-ECS booth (above) generated a lot of buzz, and here again, the ladies Sharon (left) and Eunice (third from left) outshone the men in offering practical printing solutions to different industries and needs.
While very interested, a visitor from the corporate gifts industry noted, echoing what  Lionel Dean had said earlier: "This technology is good for customised corporate gifts, but the price has got to come down. As an example, I'd like to print customised tie-pins for my customers, but $100/= per pin is just too much for me."
An architect lamented that architects are in general too busy to spend much time in improving on their traditional design skills, but that 3D printing and AM technologies should be part of their professional arsenal of skills to lead in the future.
---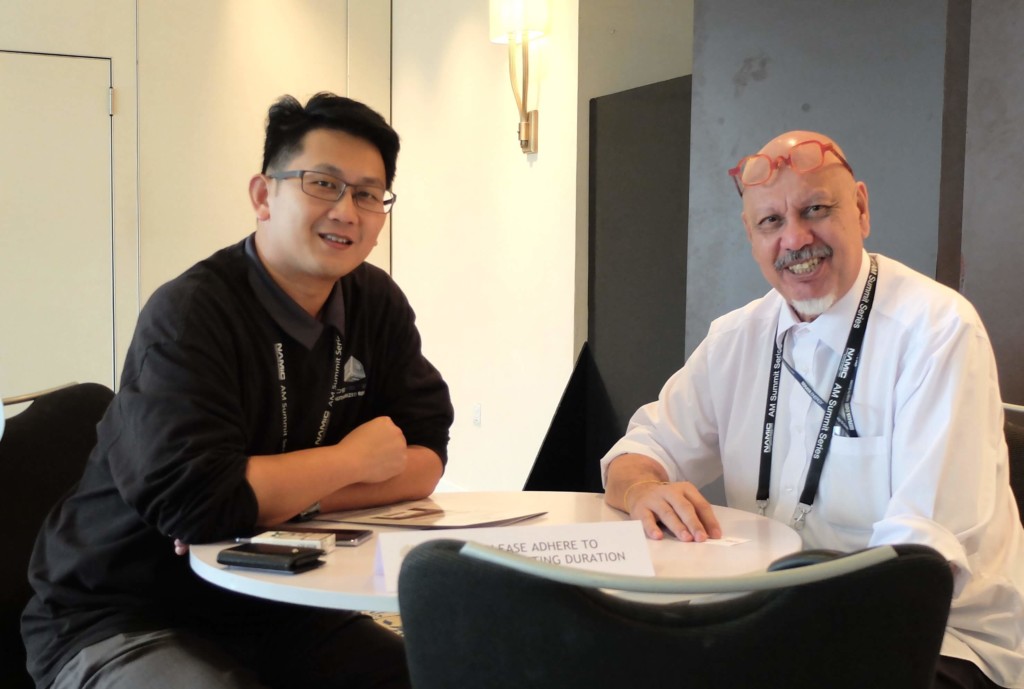 Clockwise from top left: Eric, who is from a 3D printing business shares the feeling at the summit that there still needs to be a lot of effort expended to convince manufacturers to switch to 3D printing to produce parts for their machinery; First-time participant, Architect Aloysius Chua said that architects still have a lot to learn about 3D printing; ECS Singapore's Terry Ming talking business/shop with Lennard J Belhetchet in a room set up specially for business meetings.
---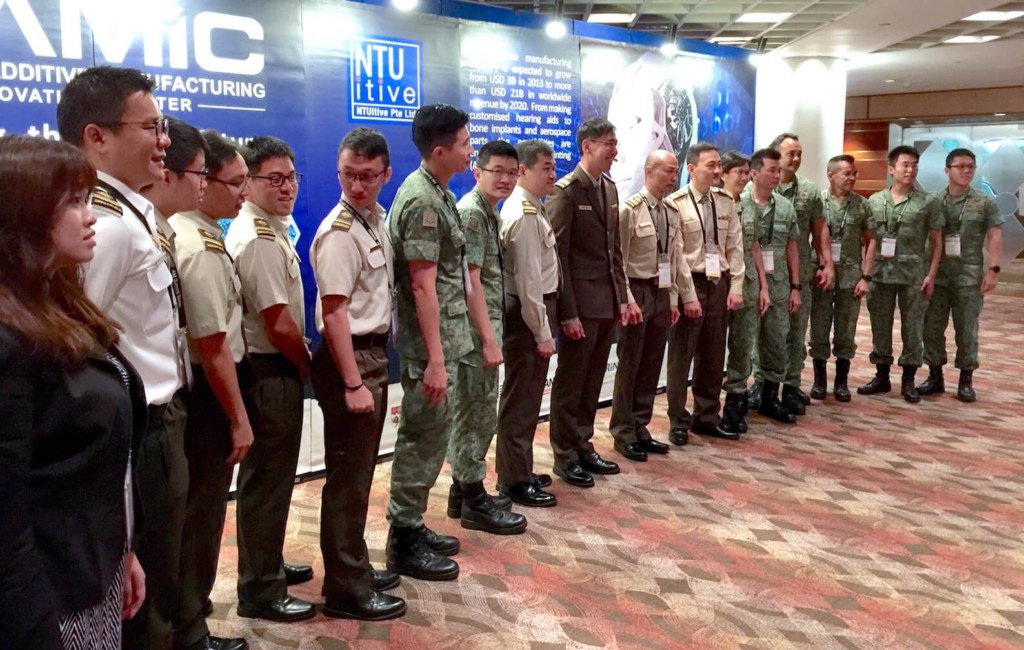 Above: The Singapore Army turned up in force, adding a dash of colour and vitality to the event and capped the event with their signing of an MOU with the hosts.
"The MOU will allow SAF to leverage on NAMIC's 3D printing technology for rapid in-house prototyping of parts for military use, as well as gain access to its extensive network of research and industry partners. We will also collaborate on the development of qualification standards and conduct research into the military use of 3D printing," says NAMIC's Managing Director Dr Ho Chaw Sing.
"With AM having the ability to optimise and redesign spare parts rapidly, SAF can customise parts with enhanced strength and durability. This will, in turn, reduce their reliance on commercial suppliers and strengthen the SAF's operational capabilities.
"In the near future, the SAF may be able to use 3D printing to manufacture spare and obsolete parts for its equipment without having to order them from an external supplier and then wait for delivery."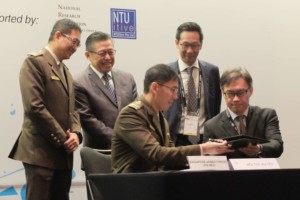 Dr Ho Chaw Sing, NAMIC Managing Director (seated, right) signs the MOU with Chief Maintenance & Engineering Officer ME6 TAN Mu Yen. Witnesses included Commander Combat Service Support Command Brigadier General Lam Sheau Kai, Chairman Regina Global Holdings Teng Theng Dar, and Chief Executive Officer (NTU Innovation) NTUitive Dr Lim Jui.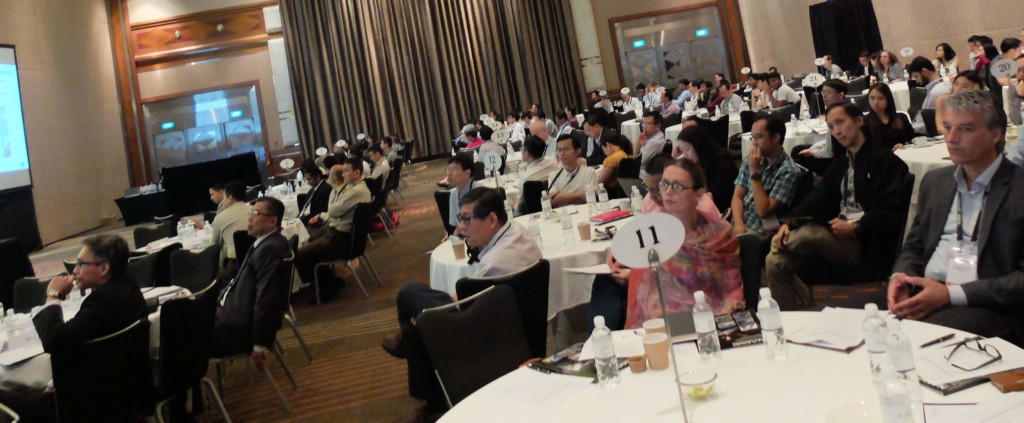 A simulated drone's eye view of the audience shows a high level of real interest in the proceedings. NAMIC's key goals of translating upstream 3D research in universities and institutes of higher learning (IHLs) into downstream commercial operations is making progress among the attendees that include startups, architectural and interior design firms, manufacturers and printing bureaus and those in the market for AM services and products.