Add sense of Touch to your digital world
The haptic devices use motors to create forces that push back on the user's hand to simulate touch and interaction with virtual objects.
Intuitive Interaction
When haptics are used in the Geomagic design and virtual sculpting environments, designers can interact and feel the shape of the 3D data almost as if they were designing in physical clay. This enables far more intuitive 3D design with interactive clay sculpting tools that perform just like the real world. These patented Geomagic haptic devices ingeniously use motors to create forces that push back on the designer's hand to simulate touch when the cursor interacts with the 3D model in virtual space.
Touch to create and simulate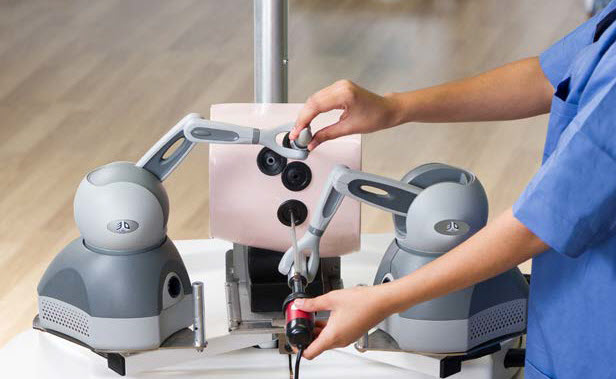 3D Systems haptic devices are used in every industry that requires accurate but organic designs, using the sense of touch to build designs faster and with precision.
Designers in the following industries turn to Geomagic software and haptic devices to successfully create their designs:
Medical and surgery

Toy and action figurine manufacturing

Jewellery design

Artwork and sculpting

Automotive parts and products

Bakewear and cookery molds and dies

Architectural hardware products

Forensic reconstruction

Shoe design and manufacturing

Medals and coins

3D Game development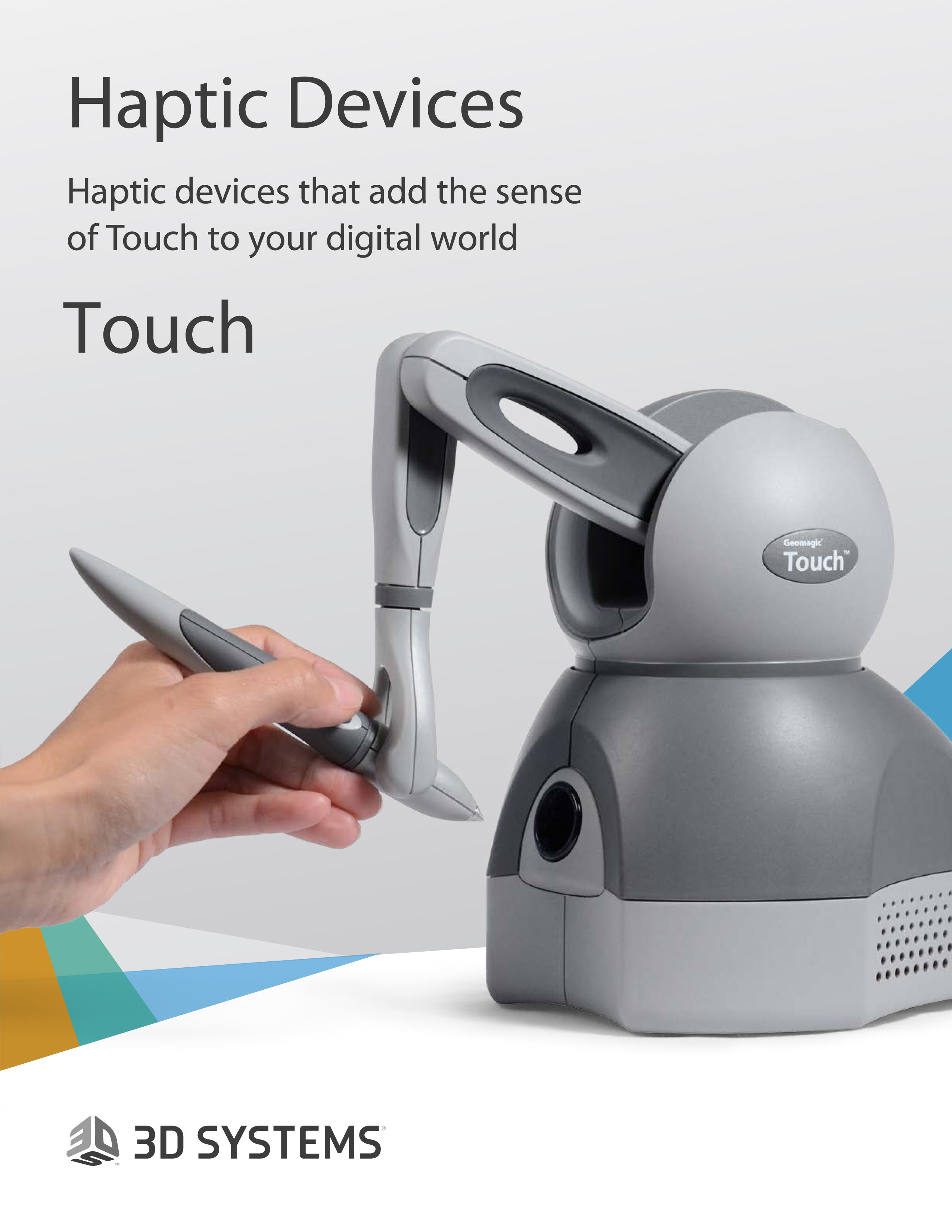 The Geomagic Touch (formerly Sensable Phantom Omni) is a mid-range professional haptic device. Used in research, 3D modeling, OEM applications and more, Geomagic Touch allows users to freely sculpt 3D clay, enhance scientific or medical simulations, increase productivity with interactive training, and easily maneuver mechanical components to produce higher quality designs.
Geomagic Touch is a motorized device that applies force feedback on the user's hand, allowing them to feel virtual objects and producing true-to-life touch sensations as user manipulates on-screen 3D objects. Leading companies integrate the Geomagic Touch and haptics into their work to achieve compelling solutions using the realistic sense of touch.
Geomagic Touch can be used in diverse applications, including: simulation, training, skills assessment, rehearsal, virtual assembly, robotic control, collision detection, machine interface design, rehabilitation, mapping and dozens of other applications.
With a greater accuracy, the Geomagic Touch offers the ability to sculpt more precisely inside the Geomagic sculpting products. With Ethernet connectivity this system offers robustness and stability for more complex projects and designs.
Geomagic® Touch™ Features
Portable design and compact footprint
Compact force feedback workspace
6-degree-of-freedom positional sensing
3-degree-of-freedom force feedback
RJ45 compliant on-board Ethernet Port or USB Port
Comfortable molded-rubber stylus with textured paint
Removable Stylus
Two integrated momentary stylus switches
Stylus-docking inkwell
Ergonomic design
Supports OpenHaptics toolkit with QuickHaptics micro API
Made of metal components and injection-molded plastics
CE certified
The award-winning Geomagic Touch X (formerly Sensable Phantom Desktop) pushes haptic capabilities to the next level, providing more precise positioning input and high-fidelity force-feedback output. For 3D modeling and design, surgical training, virtual assembly and other procedures that require a higher degree of precision, Touch X is an easy-to-use, affordable option.
The Geomagic Touch X haptic devices allow users to feel 3D on-screen objects by applying force feedback on the user's hand, and the Touch X delivers expanded true-to-life sensations with a more fluid feel and lower friction. Its durability, affordability and accuracy make the Touch X haptic device ideal for commercial, medical and research applications, especially when compactness and portability matter.
Leading OEMs choose the Touch X and integrate it into their products, as its valuable in a number of interactive virtual environments, like surgical simulators and machine component visualization.
With an accuracy up to 1100dpi, the Touch X delivers the very best for professional designers and artists in terms of accuracy and ability to develop fine details. This system delivers optimal stiffness and a high exertable force to assist with the design process for the very best in Freeform design and production.
Geomagic® Touch™ X Features
Portable design and compact footprint
Compact force feedback workspace
6-degree-of-freedom positional sensing
3-degree-of-freedom force feedback
Comfortable molded-rubber stylus
Automatic workspace calibration
Two integrated momentary stylus switches
Patent protected
Supports OpenHaptics toolkit with QuickHaptics micro API
Constructed of metal components and injection-molded carbon fiber reinforced plastics
CE certified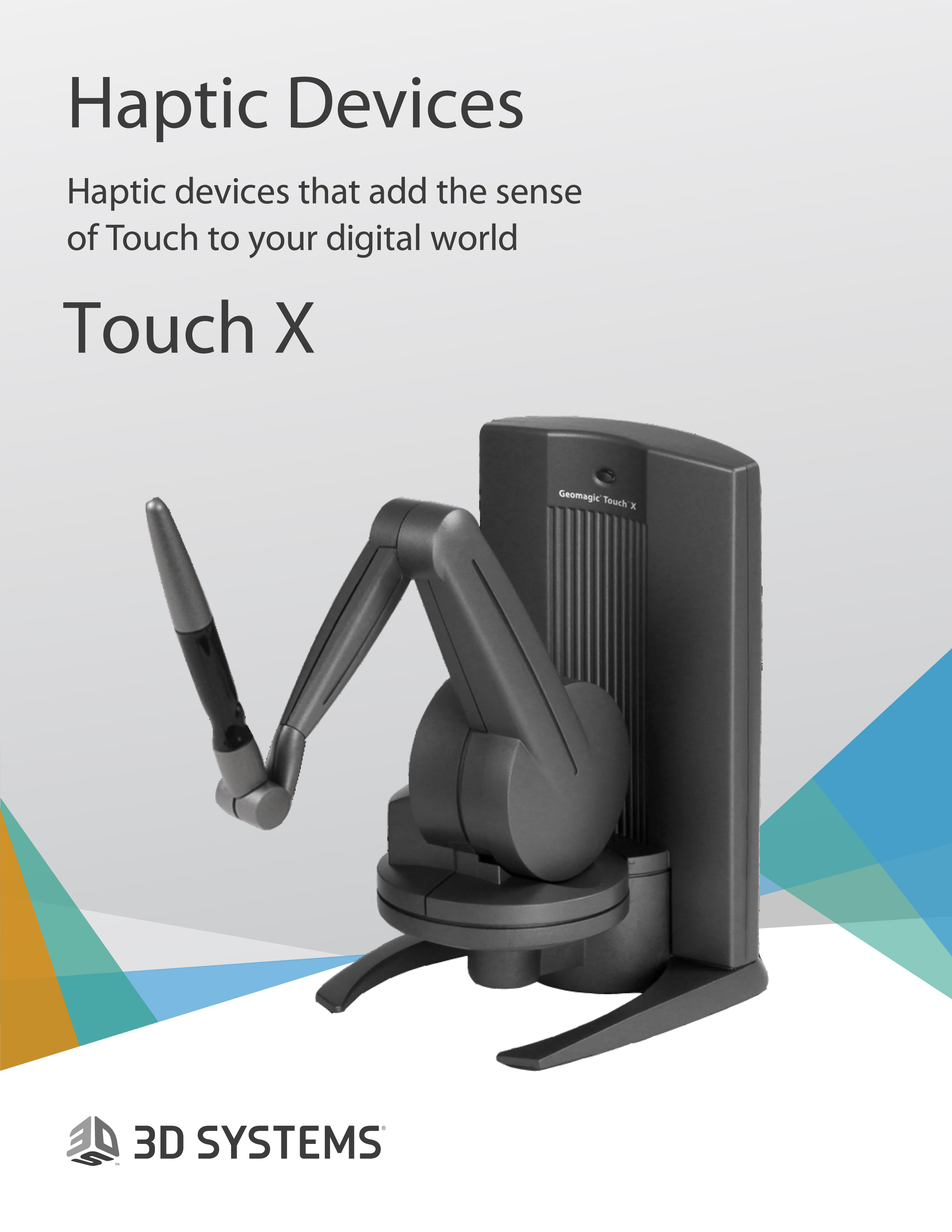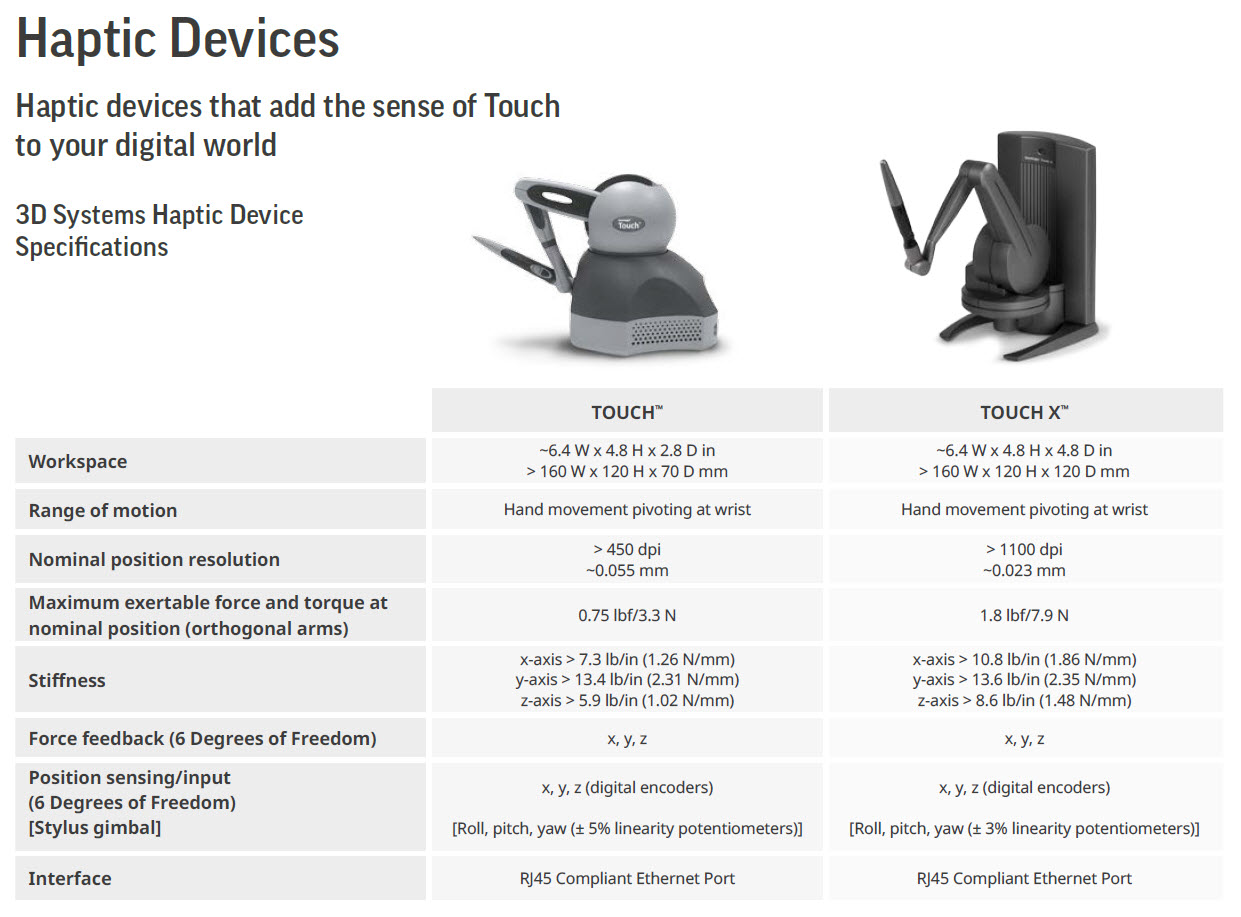 Software that works with Geomagic Touch & Geomagic Touch X
Geomagic Sculpt
Geomagic Sculpt is an entry-level, fast, accurate virtual sculpting software platform that enables you to easily create free-flowing organic designs for products, sculptures, jewellery and artwork that can simply not be achieved in CAD. Geomagic Sculpt operates with both a standard mouse or with a Geomagic haptic device for a true sense of touch, while working as the most intuitive way to create functional and beautiful products for 3D printing and manufacturing.
Geomagic Freeform & Freeform Plus
Geomagic Freeform is an industry-leading, multi-purpose 3D sculpting design platform. This enables you to create complex, sculptural, production ready 3D models and quickly prepare them for 3D printing, or mold and die manufacturing. The software comes in 2 modes – Geomagic Freeform and Geomagic Freeform Plus and works exclusively with Touch haptic devices.