INTEGRATED, INDUSTRIAL-GRADE 3D SCANNER AND SOFTWARE SYSTEMS
The Capture scanners from 3D Systems deliver accurate and fast blue light 3D scanning technology in a portable, lightweight unit that can be hand-held, static and easily combined into a multi-scanner configuration. The Capture comes in two models, the Capture and Capture Mini, which are integrated with Geomagic reverse engineering and 3D inspection software for rapid and highly accurate scan-to-3D processes.
Scan faster with multi-Capture scanning
Quickly set up a multi-Capture array, and you can scan and process accurate 3D data even faster. What's more, the software's advanced automation and scripting tools make repetitive inspections easier than ever.
Reduce costs and increase efficiency
Complete Geomagic Capture systems, including integrated Geomagic software, cost less than other professional 3D scanners. For the first time, you can get the accuracy, the scanning envelope and the advanced software you need from a single vendor.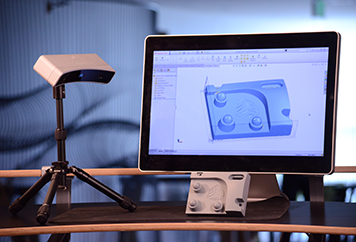 Get to market faster with the 3D digital thread
Streamline your workflow, incorporate quality inspection and deliver products to market faster with the power of 3D Systems' complete digital thread. Geomagic Capture delivers a bridge between physical parts and digital software tools for rapid design, engineering, production and quality control. Bring physical objects to CAD, recreate lost or damaged design files, verify dimensions, prepare for 3D printing and manufacture confidently.
Add state-of-the-art scanning to your MCAD system
Geomagic Capture works flawlessly with SOLIDWORKS® via plugin and delivers feature-based CAD data to Siemens® NX™, Creo®, Pro/ENGINEER®, Solid Edge and Autodesk Inventor® via the Geomagic® Design™ X LiveTransfer tools.
Rapidly recover lost design data
Lost design data? Have an old part with no drawings? Geomagic Capture lets you quickly and easily recreate CAD data for highly complex and broken parts in one seamless scan-based design workflow. From there, you can go directly to 3D printing or manufacturing.
on the user's hand to simulate touch and interaction with virtual objects.