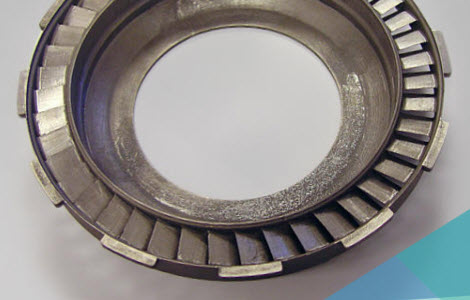 ProJet MJP Wax Investment Casting Patterns Let Turbine Technologies Soar
Company increased iterative speed of turbine design from 5 weeks to overnight, and reduced cost from $20,000 to $2,000 per pattern with ProJet MJP Wax 3D printing.
Cast test models for turbine engine components that are accurate and fast to produce, with less risk if parts are lost.
The ProJet MJP wax printer optimized both prototyping and production processes, creating wax patterns in a matter of hours.
Reduced iterative speed of design from 5 weeks to overnight, and reduced cost from $20,000 to $2,000 per pattern.
ProJet MJP Wax 3D Printer Makes Short Work of Tricky Gas Component Geometry
3 days to create CAD designs and wax patterns. 12 days between CAD data to aluminum casted part and eliminated requirements to export the work to other countries
Build natural gas regulation assemblies with higher accuracy, while protecting local jobs.
3D Systems' ProJet MJP CPX wax 3D printer produced micro-detail investment casting patterns on site.
From CAD file to final test part the project only took 12 days to prove its worth, and parts no longer need to be imported.
3D Printing Productivity Drives R&D at Renault Sport Formula One Team
Partnership with 3D Systems speeds development and fuels innovation from wind tunnel testing to flow rigs to robust on-car parts 
Accelerate automotive research and development and fuel fast-paced performance innovation in an environment of constant change.
3D Systems' end-to-end solutions from printers and materials to applications expertise.
Increase productivity by enabling a small team of engineers to produce hundreds of wind tunnel parts per week.
More innovation part designs with 3D printed investment casting patterns.
Open up new avenues for development of innovation 3D printed parts for testing and on-car use.
3D Printing Helps Jewelry Start-up Ride The Mass Customization Wave
It's totally doable with today's technology to receive a ring order in the morning, get it on the printer in the afternoon, cast it the next day, and ship for delivery the following day—72 hours from order to delivery.
Most jewelry is produced using lost-wax casting, one of the oldest technologies in metallurgy which brings with it a higher price.
3D Systems ProJet MJP Series printer provides the highest level of detail as well as the highest yield available in real paraffin wax, which is ideal for optimal ring casting.
ProJet MJP Series is the keystone of the manufacturing process. It's a real wax printer which also means that there is no possibility of casting faults due to ashes or a cracked shell due to thermal expansion. Real wax burns out completely at low temperatures and in less time than resin-based systems, so they save on energy and improve yield.