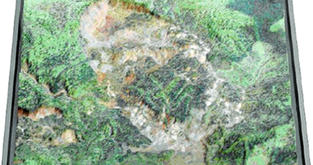 Trust System Builds Model Making Productivity with CJP printing from 3D Systems
Full color 3D printed models enable faster production, increased customer communication for topographical modeling company.
Build accurate 3D models of cities and topographical data from satellite terrain data, urban buildings data and other 3D data.
ProJet CJP full color printer had a huge impact in simplifying the work process by eliminating the need for a separate coloring step.
Ability to immediately model and compare earthquake-affected areas through direct full color printing of the topographical data.
3D Systems' CJP 3D Printer Delivers the Ultimate Prototyping Solution for Hankook Tires
Leading tire manufacturer uses Full Color 3D printing to save on costs and time while increasing quality of prototypes plus keeping its IP protected.
Enable more rapid development and testing of innovative tire designs while keeping those in-progress designs secret confidential.
ProJet CJP 660 3D printer that uses ColorJet technology (CJP) to create perfect full-color models that can be assessed for form and function.
Better communication between departments, cost savings, more rapidly-designed products and improved design data security.