A SIMPLE, FAST YET SOPHISTICATED PRECISION VOXEL MODELING SOFTWARE SOLUTION
Geomagic Sculpt allows you to create organic designs, edit, and transform existing 3D data with sculpting, shaping and detailing tools not found in traditional
CAD software. Get the sensation of clay modeling with the benefits of digital design.
Virtual Clay Modeling
Create exactly what you want. With Sculpt you can harness the power of virtual clay to easily create exquisitely complex and organic forms. Use real world sculpting concepts in a digital environment with the power of tug, ridge, emboss and deform just like real clay modeling. Sculpt is incredibly intuitive; you can use a traditional mouse or feel your design when you use a Geomagic Touch™ haptic stylus.
Add Structure to Your Design
Geomagic Sculpt's brand new StructureFX™ capability is a powerful toolset for reducing time spent in complex workflows. Select from a palette of existing effects to rapidly create complex lightweight structures and cages in designs. The StructureFX tools work alongside the 3D print analysis tools for perfect and successful 3D printing of impressive designs.
Incredible Detailing Tools
Fine tune the smallest elements and make products stand out. Sculpt lets you create textures of any complexity in virtual clay. Use embossing tools to create design flourishes, which are often impossible in CAD. Simply import any image and go. The texture you see is the texture you get when 3D printing the
model.
Photorealistic Rendering
Make renderings that impress clients and astound colleagues with the high definition KeyShot for 3D Systems. Show clients what they are getting before it's made and win more bids. A wide range of preset materials, lights and cameras let you quickly create stunning renderings.
Add the Sense of Touch to Your Digital World
3D Systems haptic devices provide true three-dimensional navigation and force feedback integrating a sense of touch into the Geomagic Freeform® and Geomagic® Sculpt™ 3D modeling systems as well as research and commercial applications. The devices use motors to create forces that push back
on the user's hand to simulate touch and interaction with virtual objects.
Geomagic Sculpt and Freeform Feature Comparison
Geomagic's organic 3D engineering systems transform the way designs are brought to life, and meet a full spectrum of design needs Geomagic Sculpt offers simple but fast organic design to 3D print. Geomagic Freeform provides more tools for advanced design, and Freeform Plus takes the toolset to the next level by providing extensive hybrid design support, broader interoperability, and the tools you need to prep your part for mold tooling and manufacturing.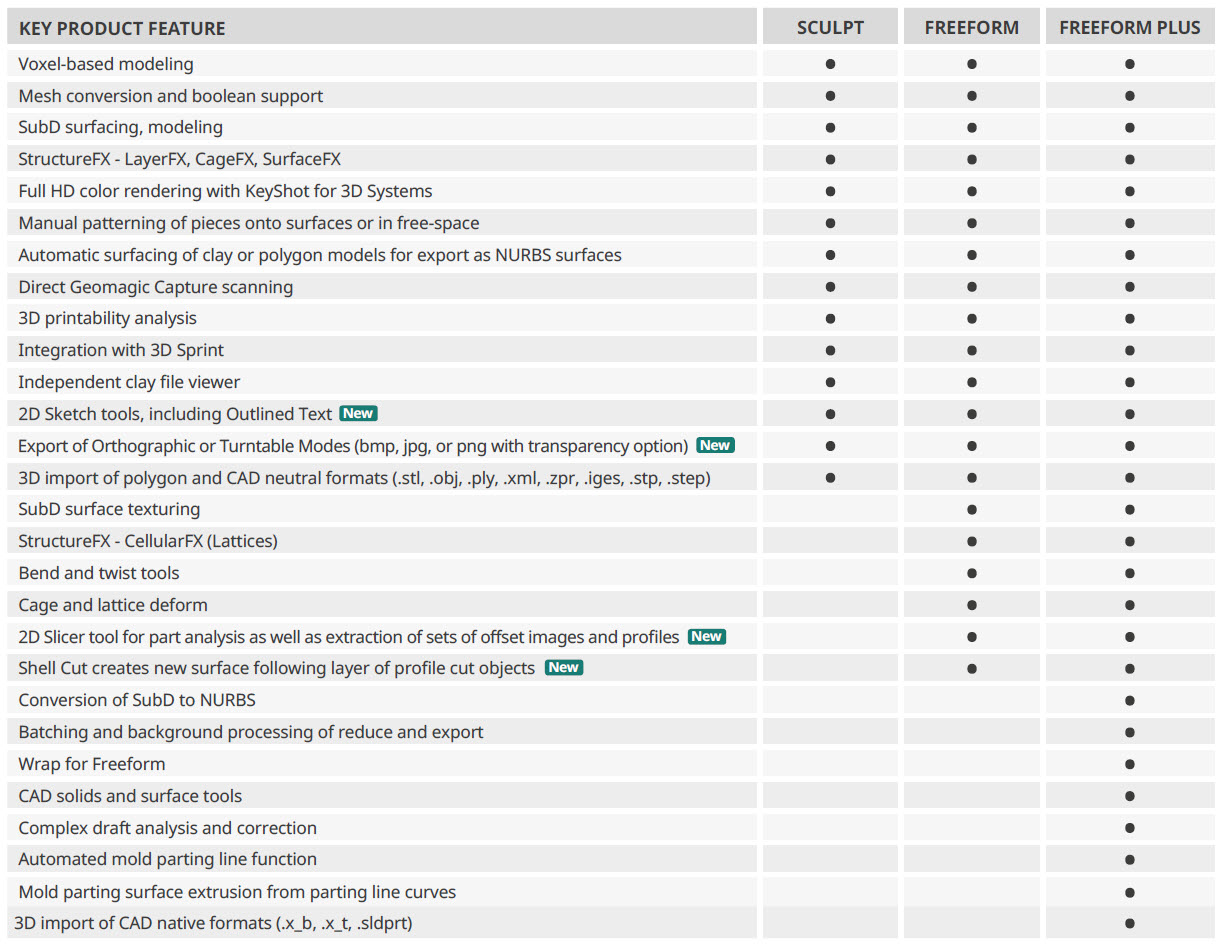 Haptic Device that works with Geomagic Sculpt
3D Systems haptic devices provide true three-dimensional navigation and force feedback, integrating a sense of touch into Geomagic Sculpt 3D modeling systems as well as for research and commercial applications.
When haptics are used in the Geomagic design and virtual sculpting environments, designers can interact and feel the shape of the 3D data almost as if they were designing in physical clay. This enables far more intuitive 3D design with interactive clay sculpting tools that perform just like the real world.
These patented Geomagic haptic devices ingeniously use motors to create forces that push back on the designer's hand to simulate touch when the cursor interacts with the 3D model in virtual space.
Geomagic haptic devices are used in a broad range of applications, as well as cutting-edge R&D projects, in which intuitive, realistic interaction with the digital world is desired. On several models, the device's end effectors can be customized to simulate a variety of tools. OEM applications include medical simulations and training exercises in which the stylus emulates the physical sensations – like probing, puncturing, drilling or cutting – of using a syringe, scalpel, arthroscope or another medical instrument.