THE INDUSTRY'S MOST COMPREHENSIVE ORGANIC DESIGN SOLUTION
Geomagic Freeform and Freeform Plus enable you to solve complex precision-design and manufacturing challenges and also allow you to easily address challenging tasks within existing existing scan-to-print or CAD-to manufacturing workflows.
Design With A Different Approach
Break through the limitations of traditional CAD design and bring your visions to reality. Geomagic Freeform offers a comprehensive design and sculpting toolset allowing you to sculpt, detail and deform virtual clay models into any form you desire. Take your designs to the next level with the advanced toolsets in Geomagic Freeform Plus. Design for manufacturability is made easy by employing hybrid based conversions, surfacing, CAD editing tools, and mold prep tools,
giving you the best of organic and digital design.
Add Structure to Your Design
Geomagic Freeform's comprehensive StructureFX™ toolset delivers the freedom to select existing patterns or create custom complex, internal and external lattice structures for lightweight and beautiful designs. Advanced tools create functional cages for applications such as custom medical implants. These tools work alongside the advanced 3D print analysis tools for perfect and successful 3D printing of your designs.
Perfectly Realistic Rendering
Amaze and delight your clients or colleagues with high definition KeyShot for 3D Systems for fast and beautiful renderings of your designs. A wide range of preset materials, lights and cameras let you create stunning renderings. For highly customized renderings, KeyShot includes tools to create high-resolution images, custom materials and sophisticated lighting.
Add Organic Design to Traditional CAD
Geomagic Freeform is purpose-built to get your design into production, including its robust interoperability tools to handle import and export of 3D file formats including STL, OBJ, PLY, IGES, STEP and other neutral formats. Freeform Plus supports additional CAD formats. Combine CAD files with sculpted features to create accurate organic solids that are defined by explicit dimensions.
Manufacture Directly from Your Designs
Geomagic Freeform Plus allows you to identify and remedy potential manufacturing issues early in the design process so you can retain artistic control while avoiding production surprises and costly oversights. Confidently 3D print your designs with pre-printing analysis tools to ensure the part prints right the first time. You can also use Freeform data to quickly 3D print casting patterns for fast, accurate creation of investment casts. Powerful voxel technology exports water-tight models requiring no additional costly model repair software.
Geomagic Sculpt and Freeform Feature Comparison
Geomagic's organic 3D engineering systems transform the way designs are brought to life, and meet a full spectrum of design needs Geomagic Sculpt offers simple but fast organic design to 3D print. Geomagic Freeform provides more tools for advanced design, and Freeform Plus takes the toolset to the next level by providing extensive hybrid design support, broader interoperability, and the tools you need to prep your part for mold tooling and manufacturing.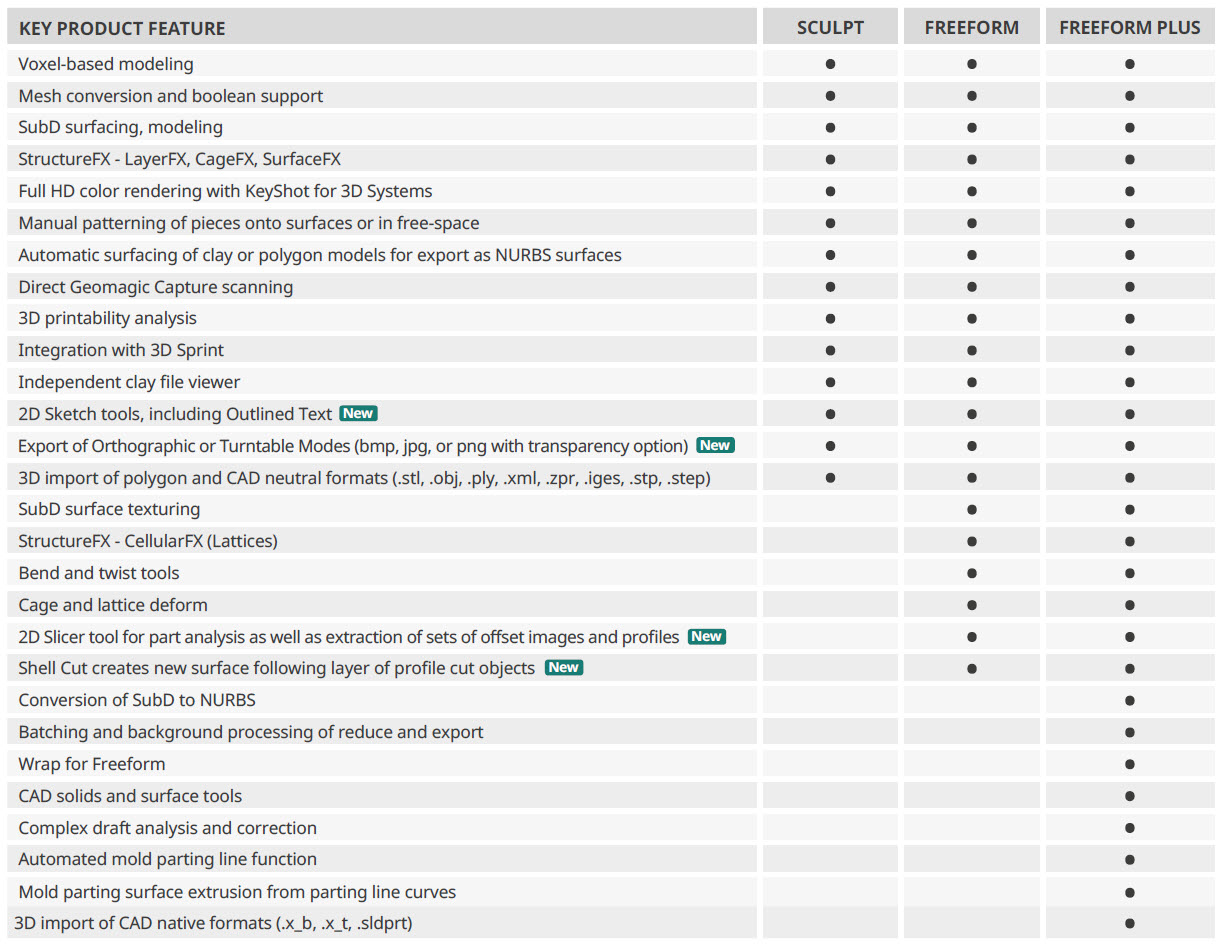 Haptic Device that works with Geomagic Freeform & Freeform Plus
3D Systems haptic devices provide true three-dimensional navigation and force feedback, integrating a sense of touch into Geomagic Freeform & Geomagic Freeform Plus 3D modeling systems as well as for research and commercial applications.
When haptics are used in the Geomagic design and virtual sculpting environments, designers can interact and feel the shape of the 3D data almost as if they were designing in physical clay. This enables far more intuitive 3D design with interactive clay sculpting tools that perform just like the real world.
These patented Geomagic haptic devices ingeniously use motors to create forces that push back on the designer's hand to simulate touch when the cursor interacts with the 3D model in virtual space.
Geomagic haptic devices are used in a broad range of applications, as well as cutting-edge R&D projects, in which intuitive, realistic interaction with the digital world is desired. On several models, the device's end effectors can be customized to simulate a variety of tools. OEM applications include medical simulations and training exercises in which the stylus emulates the physical sensations – like probing, puncturing, drilling or cutting – of using a syringe, scalpel, arthroscope or another medical instrument.